Scopus Journal Metrics
cite score 1.17
cite score detail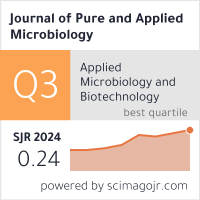 Editorial Board
Patron: Dr. S. A. IQBAL, M.Sc., Ph.D., FICS, FICC, FICA, FIAEM, MNASc.
Principal, Crescent College of Technology, Karond, Bhopal - 462 038, India.
Editor :
Dr. M. N. Khan
Managing Editor :
Dr. Meena Iqbal

EDITORIAL BOARD

Dr. Faisal Masood Khan
Faculty of Medicine, University of Calgary,
Health Sciences Center,
3330 Hospital Drive NW Calgary, Alberta. Canada.

Dr. Wei Sun
The Biodesign Institute at Arizona State University,
Arizona, USA.

Dr. Ahlam Ahmed Al-awadi
Scientific Departments, Ministry of Education,
General of Administration of Girl's Colleges
Girl's college of Education in Jeddah,
Kingdom of Saudi Arabia.

Dr. M. S. Reddy
Department of Entomology & Plant Pathology
209 Life Sciences Bldg.Auburn University,
AL 36849, USA.

Dr. Mohammed Abdul-Kader Ibrahim (Al-Obaide)
Royal Scientific Society, Environmental Research Center,
P.O. Box 1438, Al-Jubeiha 11941,
Amman, Jordan.

Dr. Omar Haji Mohamed Shair
Biotechnology Programs,
King Abdulaziz City for Science and Technology (KACST),
Kingdom of Saudi Arabia.

Dr. Kamala Vanarsa
Molecular and Cell Biology,
University of Texas at Dallas, Dallas, USA.

Dr. B. Boboye
Department of Microbiology,
Federal University of Technology,
P. M. B. 704, Akure, Ondo State, Nigeria.

Dr. Sohini Mukherjee
Department of Immunology,
Hooper Lab, NA7.512, USA.

Dr. EL-Sayed E. Habib
Faculty of Pharmacy, Mansoura University,
Mansoura 35516, Egypt.

Dr Ahmet ADIGUZEL
Ataturk University, Faculty of Science
Department of Molecular Biology and Genetics
25240-Erzurum, TURKEY

Dr. Sashi Kanta Dash


Centre of Postgraduate Studies in Microbiology,
Orissa University of Agriculture & Technology,
Bhubaneswar - 751003. India.

Dr. Harmeet Kaur
UC Davis Medical Center,
5593 Brampton Way Sacramento, CA, 95835, USA.

Dr. Ilyas Ansari
Pathogen Control Engineering Institute
School of Civil Engineering, University of Leeds
Leeds, LS2 9JT, United Kingdom.

Dr. Parvez Akhtar
Department of Microbiology and Molecular Genetics,
University of Pittsburgh School of Medicine,
Bridgeside point II, Lab # 545, 450 Technology Drive
Pittsburgh, PA, 15219, USA

Dr. Shaukat Saeed Khan
Saifia College of Science & Education, Bhopal, India.

Dr. Koshy Philip
Institute of Biological Sciences, Faculty of Science
University of Malaya, 50603 Kuala Lumpur, Malaysia.

Dr. Yanlong Jiang
Avian Diseases Department, Harbin Veterinary
Research Institute, CAAS Harbin City, China.

Dr. Rashmi Krishnapuram
Infection and Obesity Lab,
Pennington Biomedical Research Center,
Baton Rouge, LA 70808. USA.

Dr. Abd El-Latif Hesham
Microbial Genetics & Environmental
Meta-Genome Biotechnology Genetics Department,
Assiut University, Assiut 71526, Egypt.

Dr. Guohua (Karen) Yin
School of Environmental and Biological Sciences
Rutgers, The State University of New Jersey
59 Dudley Road New Brunswick, NJ, USA.

Dr. Zhangsheng Yang
Department of Microbiology and Immunology
The University of Texas Health Science
Center at San Antonio, Texas 78229, USA.

Dr. Lei Lei
Experimental Immunology Branch,
Centre for Cancer Research, NIH, Bathesda, USA.

Publishing Advisor: Zainuddin Shah, Secretary, Saifia Education Society, Bhopal (India)

Published, Printed & Owned by: Dr. M.N. Khan,
Address: 54, Near Post Office, Thana Street, Shahjahanabad, Bhopal - 462 001. India.
Tel.: +91-755-2540258; Mob.: +91-9893809167; E-mail: micro_drkhan@yahoo.com

Printed at: DRISHTI OFFSET, Press Complex, Zone-1,
M.P. Nagar, Bhopal-462 011. India. Tel.: +91-755-2766733

Copyright © All rights reserved. Journal of Pure and Applied Microbiology.

No part of this publication may be reproduced, stored in a retrieval system, or transmitted,
in any form or means without the prior written permission of the publisher.
Journal of Pure and Applied Microbiology Impact Factor for 2013 is 0.073, According to the 2013 Edition of Journal Citation Reports (Published by Thomson Reuters in July 2014).