Scopus Journal Metrics
cite score 1.17
cite score detail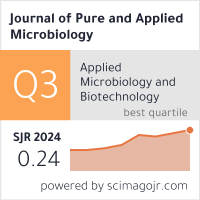 Scope of the Journal
Journal of Pure and Applied Microbiology (JPAM), strives to provide a forum for worldwide scientific researchers to share findings on all aspects of Microbiology and to disseminate innovative, relevant and useful information throughout the scientific horizon.
Journal of Pure and Applied Microbiology will encompass research and review articles pertaining to all branches of microbiology and its allied disciplines and in general shall be incorporating the following fields: microbiology, bacteriology, phycology, mycology, and protozoology, molecular biology, microbial genetics, microbial physiology, microbial biochemistry, microbial structure, microbial taxonomy, food microbiology, industrial microbiology, medical microbiology, epidemiology, public health, diagnostic microbiology, microbial ecology, agriculture economic and environmental microbiology etc.
Research papers reporting work on all microorganisms, including viruses, are welcomed provided they demonstrate new findings of relevance to the field as a whole. The journal is quarterly, published in March, June, September and December, which provides the platform for research scholars, intellectuals and microbiologists to express their views and research work for interaction to the entire world. All articles will be peer-reviewed and will find a place in Journal of Pure and Applied Microbiology based on the merit and innovativeness of the research work.
We therefore, invite you to send your research papers, reviews, and articles for the current and the forthcoming issues.
Journal of Pure and Applied Microbiology Impact Factor for 2013 is 0.073, According to the 2013 Edition of Journal Citation Reports (Published by Thomson Reuters in July 2014).